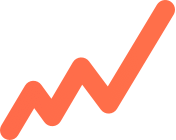 Focus On
Business Outcomes
Apps are a means to an end, and too many apps fail to deliver and become a liability. Our development process is iterative to ensure we can consistently improve the KPIs to reach your desired business outcomes.

Experience
Over Research
We build apps with users and not for them. We keep changes incremental, build prototypes, conduct rapid testing and refining, and utilize analytics tools, crash reporting, in-app messaging and surveys to collect feedback from users.

Measurable
Results
Creating a mobile app that consistently yields results is a continuous effort. Our methodology is not geared towards a single app delivery, but towards delivery of multiple drops, each performing incrementally better.